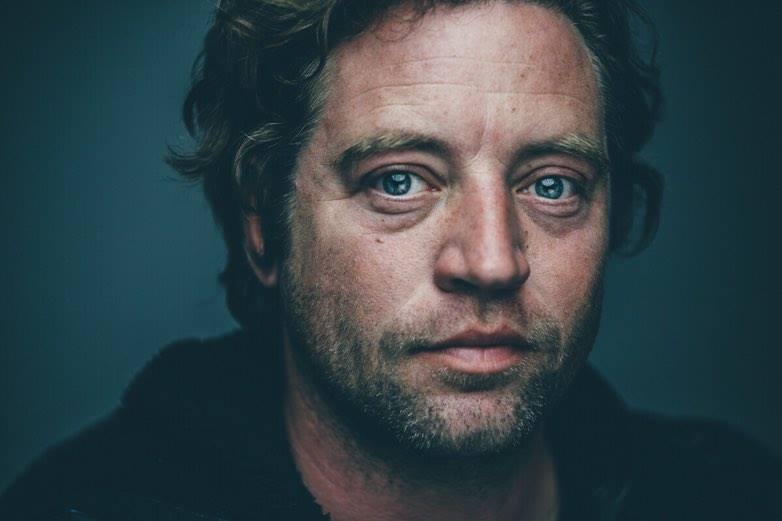 Hungarian born artist Tibor Simon-Mazula works instinctively, taking refuge in the physical and tangible aspects of painting. Based on his background in mathematics and filmmaking, Tibor creates intimate dream-like scenes and portrays figures and spaces, which matter to him. He finds inspirations in his wife, friends and traveling companions. In the images, current everyday situations of real objects, and people appear in their actual environment. Singular bathers, reading character on a couch, stretching woman or a couple standing on the shore are his subjects. Artworks also involve memory fragments from Tibor's life in Europe, Arab Peninsula and California to discover and understand personal identity, seclusion and desire for connections. His Academic training mingles with an observational method. Precisely crafted, candid images from an unusual perspective capture a trice of repeating human stories. An unknown figure is looking out the window of a new apartment and waiting for her partner, or a solitary character arriving home from the everyday trails calms down and recovers. Tibor's primary medium is oil painting, but his practice incorporates drawings and short films as well. Visuals are decreased into their basis: composition, texture, color and scale, to recall the imagination of both the artist and the observer, and help the viewer identify with the subject. On the canvas, heaviness built by thick texture rhythmically alternates with the empty surface. Painterly technique fuses materials such as bone ash, marble dust, and alum to create teethe surface and a real 3 dimensional image. Rough texture doesn't mean violence, but rather describes with free expressions the struggles that people endure. His color palette consists of an assortment of grays, which creates a harmonious mood that is subtle rather than aggressive. The large scale of the paintings make them impactful, and emphasize their intention. Heavily textured huge figures clouded with limited colors tell that ordinary people are exceptional because their apparently trivial adventures and scenes can mediate truly the fundamental and universal experiences people seem to share. Despite a personal perspective, our lives are unique and different, as essentially people face the same challenges in different forms with similar emotions, such as lost of home and quest for security, expectations and delusion carried by excitement and calm. In his current body of work, Tibor highlights only four significant ones from a lot of human actions, emotions and notions, namely: engagement, awakening, recollection and beauty.
Even though Tibor wasn't born into an artist family, his art education started early, when his parents noticed his memory drawings about horses and took him to artists to learn drawing and painting. Beside his traditional art training, Tibor enjoyed copying American, Hungarian and French comic books as well. Duality marked his education, and life situations too. In the 80's, as a young professional fencer, he was allowed to leave the Eastern Block and frequently travelled to France, Sweden and Germany. He recognized at young age, that there is a significant difference between reality and what had been instilled by the state propaganda. Ever since, individuality and real life experience are important characteristics of his art.
Independence and enthusiasm of the 1990's of his era has also made a life-long impact on his attitude and activities. Tibor learned to play the drums and as a young rebel and, member of several underground rock bands, he performed around Europe from Bosnia trough Barcelona, Paris, Berlin, to Prague. After graduating in Art Drawing and Mathematics at University of Szeged, Hungary, Tibor exhibited his paintings and worked as an art educator. Free expressions marked his early figurative works, which - under the direction of István Dér, András Novák and Mihály Schéner- were influenced by the art movement of his area called the Lowland School.
In 2000 he went on to study short film-making and cinematography in Budapest, where he worked as a 2D and 3D artist, directed animation shorts and music videos. During this time he also created short experimental and documentary films. These projects were screened in Hungary and at an international level as well, including Vancouver, Toronto, New York, Los Angeles, Chicago, Austin, Seattle Tel Aviv, Luxembourg and other main cities.
In 2008, Tibor together with his wife left Europe and moved to Dubai, where he worked as an art director, a 2D/3D artist (Eleven Creative and Sentiomedia) creating interactive digital experiences for commercial brands, art spaces and live events such as Volkswagen, EMAAR pjsc, Abu Dhabi airport company, The Tourism Development & Investment Company Abu Dhabi (TDIC), Abu Dhabi Municipality and Art Dubai. During this time he also worked on personal fine art projects and short films, and participated in exhibitions and film screenings in the city and in Europe (England, Greece and Hungary) as well.
In 2010 his fascination with the Bay Area Figurative Movement led him to California to earn his MFA in Painting. He studied under (among other great artists) Carolyn Meyer, Jenny E Balisle, John Wentz, Zin Lim and Kevin Moore. In 2013 he was named Emerging Artist at the Academy of Art University with the reward of a successful two-month solo exhibition in downtown San Francisco. In 2015, Tibor exhibited at the Marin Museum of Contemporary Art and at White Walls Gallery, San Francisco together with contemporary masters of art such as MC Escher, Don Ed Hardy, Adam Lister. As a winner of the 2015 Bombay Sapphire Artisan Series Competition, his work was featured at SCOPE Miami Beach. In 2016 his art was on display at DAX Gallery (Costa Mesa) next to the works of Keith Haring, D*Face, Ben Eine and Plastic Jesus. Recently Tibor's painting was exhibited at the Florida State University Museum of Fine Arts.
Along with the numerous awards, Tibor's artworks have been published in magazines and books, such as American Art Collector, Wide Walls and Art Reveal Magazine. Through painting he wants to understand recurrent and developing elements of his life. Currently, the artist lives in Budapest with his wife Diana, who inspires his paintings. His works available through, among others, Alessandro Berni, leading contemporary art gallery based in New York City.